# data quality
Cloudingo vs. RingLead vs. tye: Comparing Leading Data Cleansing Software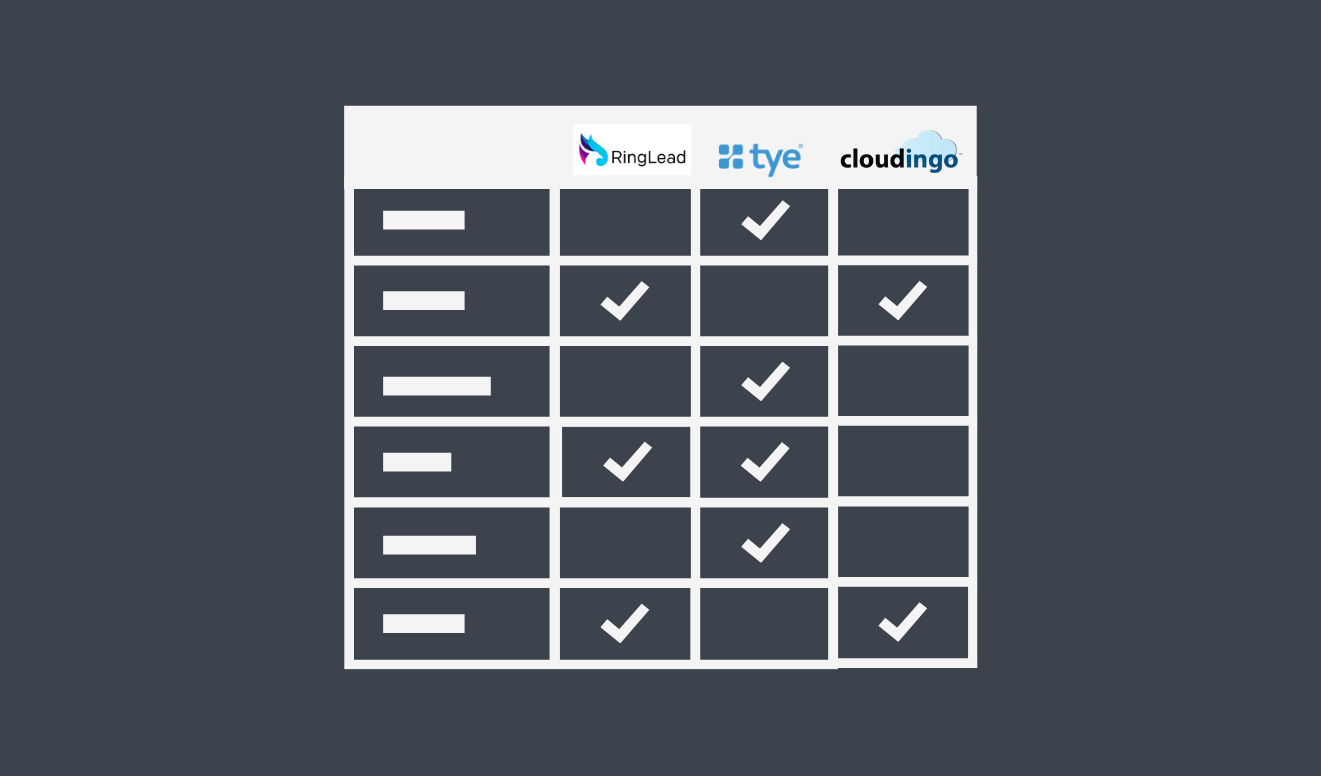 Cloudingo, RingLead and tye are all fantastic data cleansing tools, but finding genuine information about their features and how they perform in a practical setting can be a challenge.
As data experts ourselves, we understand how these data cleaning tools differ from each other and who each one is best suited for.
We aren't here to say tye is better than RingLead or Cloudingo, as each tool has its own strengths. We will compare the three tools to show how tye is different. In this comparison of tye, RingLead and Cloudingo, we will break down:
The primary features of each software
What makes them unique from the others?
Who can benefit most from the use of this software?
Want to see just how much potential for cleaning and enrichment your data has? Try tye out yourself, for free!
tye: data cleansing for SMBs
1. Overview
tye (that's us!) is a data cleaning, preparation, and enrichment software geared toward SMBs looking for an effective way to manage their data. tye checks and cleans up your datasets by getting rid of dupes, faulty entries, and any invalid data. tye also standardizes data formats so that details like addresses and phone numbers are all uniform. We use third-party tools to populate your datasets with missing information like gender, name, and location. Our data enrichment is entirely GDPR compliant, giving you extra details about your contacts, which you can use for campaign personalization.
2. What are the most notable features of tye?
Our greatest strengths and difference from the other two tools is our sheer ease of use, customizable offers and responsive customer support. Our most notable features can be separated into three main categories:
| | | |
| --- | --- | --- |
| Removes duplicate records | Standardizing phone numbers and addresses | Populating gender details |
| Removing inaccurate emails | | |
| Getting rid of outdated data | | Sourcing first & last names |
3. What makes tye unique?
We go a step beyond just fixing invalid email addresses and removing bad ones. We also normalize your data so that automation tools can accept your import without errors. Our algorithms are customized for each customer to ensure they are perfectly tailored for each business's unique set of requirements.
We know how to clean data, but we also help enrich your data sets, meaning you no longer have to choose between data enrichment or data cleaning. We fill any holes you may have in your dataset in a GDPR-compliant way. It's as simple as exporting your data, and then importing it back in clean and ready to go.
We offer top-notch customer support and will work with you to deliver customized solutions that are as easy as possible for their customer to navigate. You can customize rules for de-dupes and we will do it for you as a service, which is where the other software tends to fall short.
4. Who is the software most suited for?
tye is best suited to SMBs who are looking for an end-to-end data management, cleansing, and enrichment service. You don't need to be data experts to use tye and receive the benefits. We focus on making the process easy. The software is user-friendly and cleans up data without any complicated procedures or investing hours in staff training. The simplicity and ease of use makes tye the perfect option for SMBs to manage their data without stress or wasted time and resources
Want to see just how much potential for cleaning and enrichment your data has? Request your free data quality check.
Cloudingo: data deduplication tool
1. Overview
Cloudingo is a Salesforce data deduplication tool and cleansing software that allows you to improve your data quality without having to export it from your CRM. One of the most significant issues with SalesForce data is duplicates, which is precisely what the developers at Symphonic Source designed Cloudingo to handle.
It not only cleans up your current SalesForce dataset but it also automatically cleans up any new imports according to filters that you build. For duplicate prevention in SalesForce, Cloudingo has you covered.
2. What are the most notable features of Cloudingo?
Cloudingo has lots of notable features that make it an excellent option for enterprises that use SalesForce. Some of these include:
Merging dupes in bulk, automatically or manually

Updates and deletes stale records

Validation of mailing addresses + adds geocodes

Shareable, real-time reports to monitor progress

Automation capabilities (keeps running in the background maintaining clean data)

Build unlimited filter options
3. What makes Cloudingo unique?
Cloudingo is different from other types of data quality software in that it allows you to clean up your data without needing to export it from SFDC first. It works directly on the platform. Additionally, it also enables you to unmerge any duplicate SalesForce records which had previously been merged in the platform. It will return your contacts to their original state, and not many data quality tools offer this capability.
4. Who is the software most suited for?
Cloudingo is best suited for large companies and enterprises that use SalesForce as their primary CRM. If you're importing large quantities of customer data into your SalesForce, then Cloudingo can ensure that the data is clean so that you can use it more effectively. Cloudingo is not a customer segmentation or data enrichment software, so if you're looking for those features, it might not work for you.
Still, because of that, it also has lower pricing than many competitors. Additionally, Cloudingo only works with SalesForce.com, so if you aren't using it, you won't have any reason to use the software.
RingLead: customer data enrichment and segmentation tool
1. Overview
RingLead is a cloud-based SaaS (software as a service) data platform that offers various data management products. The four primary pillars of the RingLead software are cleansing, prevention, enrichment, and routing. The main goal of RingLead is to work with the company's marketing automation and CRM tools to help them optimize their processes around data management and lead routing. The software is built specifically to help large organizations achieve their marketing goals through the use of data. It's a complex platform that has tons of features that can help you with data management.
2. What are the most notable features of RingLead?
RingLead goes beyond CRM data cleansing features. They have some marketing tools as well. Some of the software's most notable features include:
Automated customer segmentation

Engagement monitoring

Prospecting tools

Data migration

Data normalization

De-duping tools

Validation

Route new leads
3. What makes RingLead unique?
The unique feature of RingLead.com is its lead-to-account matching capabilities. The feature automatically identifies which account a lead belongs to by matching specific fields. As an example, if you add a new contact list and one of the contacts works for Apple, it will automatically connect them to their company account in your database.
What's the benefit of this? Knowing which account they belong to will help you avoid spamming the new contacts with cold or irrelevant emails when a member of your sales or marketing team may already be in touch with decision-makers from the company.
Each contact might contain a different set of data, but the platform will automatically dissect the information to determine the account. Here is what that might look like for an account called The Smith Company:
| | | |
| --- | --- | --- |
| | Sarah@thesmithcompnay.com | |
| | | Sales Lead at The Smith Company |
| | Peter@thesmithcompnay.com | |
4. Who is the software most suited for?
RingLead is designed for large enterprises that need better data for marketing automation purposes and import mass volumes of data. That said, the systems can be rigid, not allowing as much customization that you would get on other platforms. Due to the number of features offered by the RingLead platform, the cost is high, meaning it may not be accessible to SMBs.
When comparing Cloudingo vs. RingLead, RingLead comes at a higher price, but with more features to work with.
Conclusion
So, which data cleansing software is the best for you? Cloudingo, RingLead, and tye are three of the best data cleansing software options on the market, and they each function best for a different type of business.
There are, of course, many other options out there, including DemandTools, CRMfusion, Oracle, Openprise, Dupecatcher and more. That said, we've chosen the top three to give you a good idea of what types of features to look for.
tye is the top pick for SMBs who don't want to overthink data cleansing and are looking for a cost-effective, user-friendly way to optimize their datasets. Cloudingo and RingLead are better suited for large enterprises with more budget and a higher volume of data that needs processing.
Want to see just how much potential for cleaning and enrichment your data has? Try tye out yourself for free!