# email automation
10 Surprisingly Simple Email Automation Workflow Examples You Can Use Today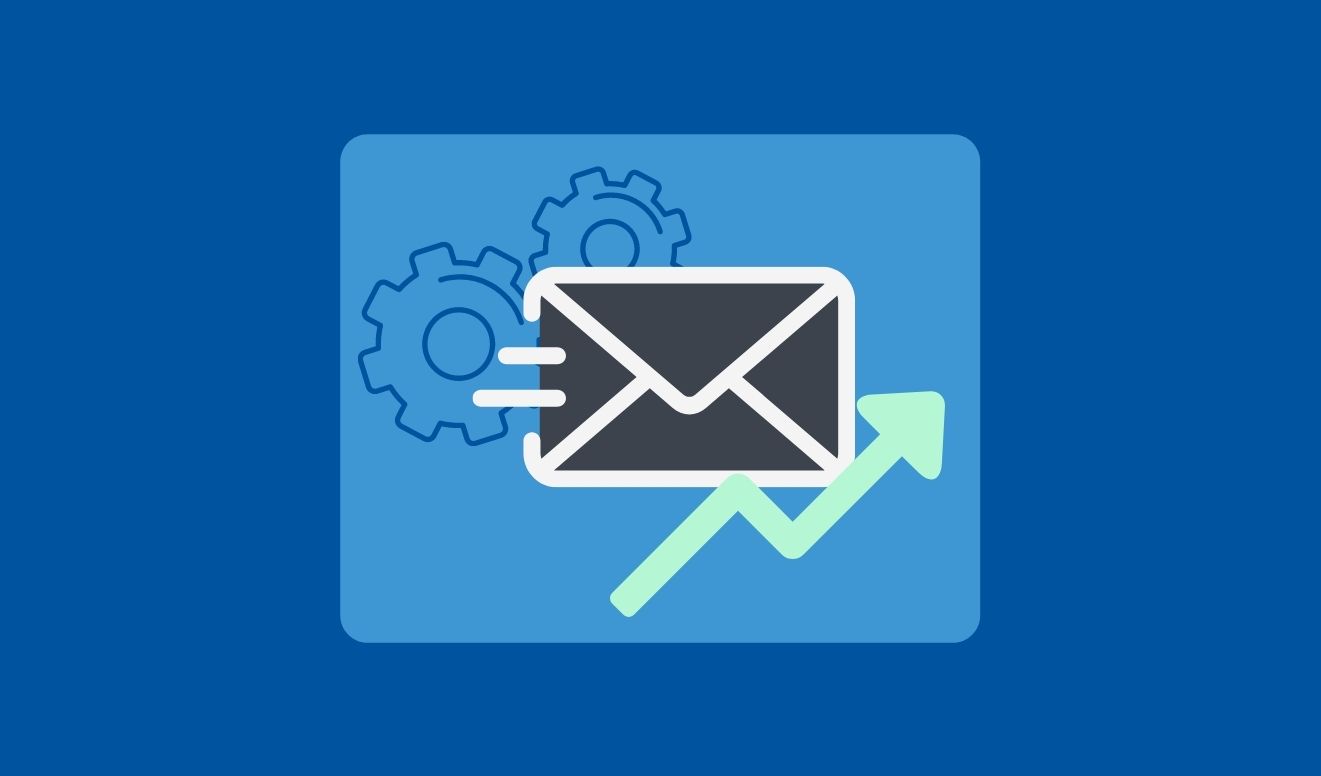 In this article, we will share some simple email automation workflow examples that can be implemented relatively quickly. Once in place, they work while you sleep so you don't have to lift a finger.
Automated emails triggered by subscriber behavior are known to achieve higher click-through rates and conversion rates than manual emails, mainly due to timing and relevance; if a subscriber receives a message immediately after taking an action, they're more likely to be ready to open the email, read it, and take the required action.
According to Campaign Monitor, automated emails can generate 320% more revenue than non-automated emails. That's a huge opportunity that cannot be overlooked.
But, despite what you may read online, email automation doesn't just work at the click of a button. It takes some time to get your head around and, if you're new to email automation and are yet to set up your workflows, you might be feeling a little overwhelmed by the abundance of information online.
Simply automating your email does not equal success, however. It's important to understand all of the steps required before you even get to the point of setting up your email automation workflows, such as choosing the right email automation software, and cleaning and segmenting your data, which will have a huge impact on the next steps. We're here to help, it's why we created this guide in the first place.
Email automation needs good, clean data. We clean it for you. Request a demo today.
What are automated email workflows and why are they useful?
This article is part of our ultimate guide to email automation, providing a detailed resource to get started on your journey towards successful email automation. In essence, automated workflows are a series of automated actions for the steps in a business process for predictable and repeatable tasks between two or more people or systems.
The workflow refers to the sequence of approvals and inputs where each task is dependent on the previous one being completed. Ultimately, it's automating a series of tasks that would normally have been done manually by one or more people.
Of course, you can create many automated workflows within a business, from marketing automation to invoice generation, managing employee expenses, and sending contracts. But in this article, we're focusing on a particular type of workflow: email automation workflows.
Automated email workflows
Automated email workflows are the journey that your leads take through a series of emails, from lead generation through to lead nurturing to the point of conversion and retention. Email automation campaigns are set up to send emails based on a trigger (such as signing up to a newsletter or downloading an ebook) or an elapsed period of time (such as a contract or free trial coming to an end, or a period of inactivity).
The benefits of automated email workflows are numerous, from increasing productivity and efficiency, reducing human error, eliminating redundant manual tasks, improving connectivity, generating stronger qualified leads, and strengthening prospect communication, not to mention much-increased click-through-rates and conversion rates.
But setting up your automated email workflows is a time-consuming process, one that can appear overwhelmingly complex. The examples below will help get you started, and from there you can better track performance and optimize your workflows.
Checklist before building your email workflows
Before you can get started, make sure you have completed these steps:
Have you selected your email automation software? There are many options out there, so find the one that suits your business.

Have you cleaned and segmented your contact list? Without a clean and segmented list, it'll be difficult to start creating your email automation workflows. You need to have accurate and clean data to be able to segment your campaigns, add personalization and reap the best rewards from your efforts. If you're not sure, get in touch and request your free data check today.
Once you have the above in place, you're ready to begin creating your automated email workflows.
While they may sound complicated at first, automated email workflows are relatively easy to set up. Depending on which automation software you have selected, you may have access to a variety of templates where you can customize the rules and behavior-based triggers to suit your business needs.
10 email automation workflows to get you started
Keeping a customer is 70% easier than converting a new one, and yet a large portion of digital marketing efforts go towards lead generation. With email marketing automation, you can give your existing or previous customers a great experience, retaining them as loyal followers and potential ambassadors.
Whether for lead nurturing, engagement, retention, or re-engagement, these email automation workflows will get you started.
1. New subscriber lead nurturing welcome series
According to Mailerlite, welcome emails receive 4x the open rate and 5x the click-through rate of a standard email campaign.
When someone signs up to your newsletter or downloads your ebook or whitepaper, your business is top of their mind, the perfect time to start engaging with them via a nurturing welcome series. This allows you to gather more information about them, enabling you to segment your audience, identify strong potential leads, and drive them through the sales funnel more effectively.
Take a look at this example from Mailerlite to get your workflow started.
2. Incorporating a nurturing sequence with segmentation
This takes it a step further from the above, an effective method to learn more about your contacts and be able to segment them more accurately. When someone fills out a form, for example, a contact form or a download form, they normally receive a thank-you email.
This is pretty standard. But what you could do is incorporate additional questions that allow you to learn more about your contacts as they travel along the email sequence. Take a look at the example below from Ariel Lim Consulting to see what this looks like.
For example, an online pet store has created a downloadable PDF guide for first-time pet parents that requires users to fill out a form to download the free guide. Once submitted, users would automatically receive a thank you email with a link to the downloaded file. But in this email, you post a follow-up question 'are you a dog lover or a cat lover? By clicking one option, your audience is identifying which segment they fit into.
Now you know their affiliation and you can send them targeted content. You can then create an automated email series specifically related to their segment, for example, a 5-email series with useful content for how to train your first puppy (for the dog lovers) or your first kitten (for the cat lovers). Now your content is much more relevant, allowing for a more effective lead nurturing process.
3. Account-based marketing workflow
Account-based marketing (ABM) targets an organization's key accounts. These can be grouped by industry, type of business, size, or other factors. For this, it requires sales and marketing teams to share information and work together. Another great reason to ensure you have chosen the right software (especially one that integrates with your CRM tool) and that you have taken some time to clean and segment your data.
Personalized and targeted emails work much better for ABM. An example would be to create a series of emails personalized by specific roles in the target company. Much like your welcome email sequence, the emails would include helpful and creative content that is relevant to the recipient's role, their challenges, and their objectives. The results? Much stronger qualified leads, and much happier sales reps.
4. Free trial workflow
When someone signs up for your free trial, they're one step closer to becoming a paid customer. But it's not time to celebrate yet, there could be many reasons why someone signs up for a free trial but never converts. It's important to create a series of emails that will keep them engaged and encourage them to continue using your product or service long after their trial has ended.
In this example from Smartsheet, the user receives key product features and how-to instructions, training videos, and reminders of when their trial is coming to an end. If they don't convert once their trial has ended, the emails don't end there, they then receive a limited offer.
5. Birthday celebrations or special occasions workflow
The majority of the automated email workflow examples in this article are designed to inspire a more personal connection between your business and your contacts, and what better way to do this than by remembering their birthdays or special occasions?
A simple workflow can be set up, whereby subscribers receive an email on their birthday, anniversary, holiday, or any other key date. The email could simply contain a friendly celebratory note or could include a special offer or discount to be used for a limited time only. It's a great way to make your subscribers feel remembered and special while giving you another opportunity to connect with them and encourage repeat purchase.


6. Marketing event workflow
Whether for in-person events or online events, a marketing event workflow helps you engage with event registrants before, during, and following the event, adding to the overall event experience and potential for lead conversion.
When someone registers for your event, they should immediately receive a confirmation of their registration and any important details, such as dates, times, location, etc. But just because someone has signed up for an event doesn't mean they'll necessarily attend. So, create a workflow with a series of emails that provide information in the run-up to the event, such as hotel accommodations and agenda information for live events, log-in information for webinars, speaker profiles, pre-event preparation or material, additional content on your website or social media, and reminder emails or countdowns.
Immediately following the event, your email series could include the opportunity to request feedback, distribute any content that was shared during the event (e.g. speaker presentations), and information about upcoming events.


7. Upsell or Cross-Sell Workflow
It's important to encourage existing customers to continue buying, and as a business, you should be looking for opportunities to upsell or cross-sell.
By creating dynamically updating lists of contacts that purchase certain products, you can set up product-specific automated email workflows designed to upsell and cross-sell. Use the information within your marketing automation platform to track who a customer is, how they engage with you, how often, and through what channels. You can segment customers by interest in your products or services based on characteristics such as conversations with the sales team, past purchases, content they have downloaded, or free trials they have signed up to, making the upselling process a lot smoother.
But watch out for your stats here. Some customers may find this content irrelevant, obtrusive, or even annoying. So keep a close eye on email open rates and click-through rates to determine whether these emails are keeping customers engaged, or turning them away.


8. Cart Abandonment Workflow
Anyone who runs an e-commerce business will know that a large part of potential customers abandon items in their shopping cart. Maybe they lost interest, the item was too expensive, they found an alternative, or they simply haven't made up their mind yet. To stop cart abandonment from becoming a growing problem on your website, ensure you have an automated abandoned cart email workflow set up.
If an account holder leaves your website with an incomplete purchase, set up automated email reminders, it could just be that they weren't quite ready or they forgot. If that doesn't work, the following emails could contain offers for free shipping, a bonus product, a discount, or any other incentive that takes them back to the checkout process.
Interestingly, according to research from Omnisend, automated cart abandonment messages are one of the highest-converting types of automated messages, with 33.9% conversion.


9. Lost opportunity nurture workflow
An opportunity may have been lost for a number of reasons. Possibly due to budget constraints, timing, discovering alternative solutions, or perhaps your product or service wasn't the right fit at the time. Here, you could create lost opportunity nurture workflows that relate to the reasons why your lead was lost in the first place.
For example, if your lead dropped off because of budget constraints, your lost lead nurture workflow could win back their engagement by offering a series of helpful emails with some discounts, free content or a product, or service priced at a lower price point.


10. Re-engagement workflow
This type of workflow serves to re-awaken those inactive contacts, such as previous clients who haven't purchased for some time, those that signed up for a free trial, never converted and were not engaged with your content, or maybe someone who has subscribed to your newsletter but hasn't opened your emails or responded to any offers.
There are a variety of workflows you could implement here, triggered by the length of time since their last purchase, trial sign-up, form submission, website visit, or email click.
To re-engage with them, you could set up a series of emails to share relevant messages such as announcing new product features, gathering feedback to understand why they left, sharing new content, or offering a discount.
#Emailautomation can dramatically improve the success of your email campaigns.
But first, you need to set up your automated email workflows. Check out these 10 examples of automated email workflows that are surprisingly simple to implement:
What happens next?
The data is out there and speaks for itself; email marketing automation will substantially strengthen your existing marketing strategy. It will save on manual processes and deliver better results. Not just in nurturing leads and driving them through the sales funnel, but also re-engaging with lost customers, creating loyal customers, improving the customer experience, and achieving higher customer satisfaction rates. The opportunities are endless.
All of this will take some time to set up, but it'll be completely worth it in the long run.
Here we have shown you just 10 examples of email automation workflows you could implement. It takes some time and it'll take some practice, but once these are in place, it'll save you so much time in the long run and the results will be much stronger. Keep a close eye on your metrics, watch for those open rates and click-through rates to ensure they're on the up, and optimize your workflows to suit your business and your subscribers.
But before you go ahead and start creating your workflows, remember that successful email automation relies on good, clean data. Clean data will aid you enormously in your quest to run effective automations for your business. Campaigns have a much higher chance of success when personalized and for this to happen, your customer information and details need to be correct.
Email automation is hard impossible without clean data. We clean, dedup and standardize your data for you. Chat with a data cleaning expert today.