# email marketing
6 B2B Email Marketing Best Practices For 2020 (New Stats and Examples)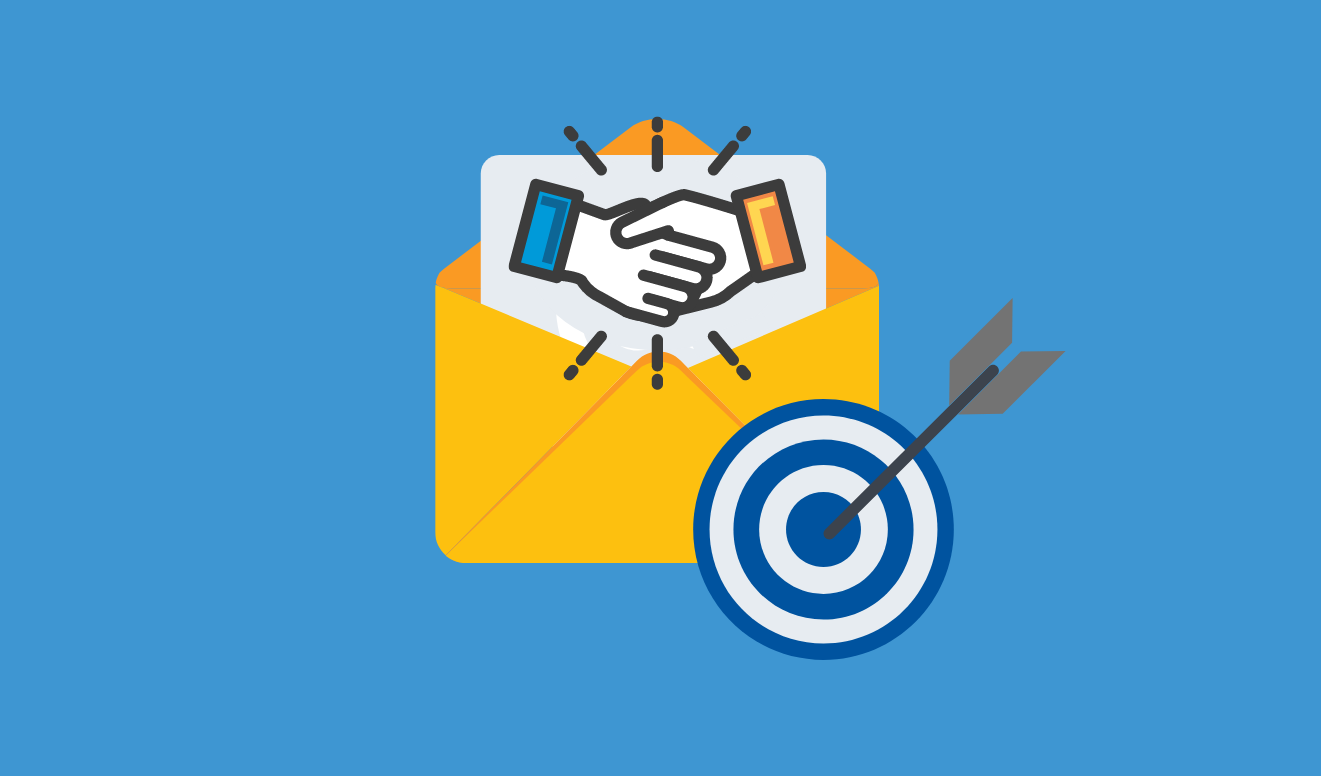 Email marketing continues to prove itself as an effective strategy for B2B (business to business) marketers. In this post, we'll:
Explain what makes email marketing effective (hint: it's personalization)

Define a healthy email send list (and explore email list management best practice)

Give examples of impressive personalized content (and tips for creating your own)

Share 3 great email marketing case studies from 2020
Did you know?
B2B email marketing statistics for 2020
B2B email marketing best practices
Here are the key elements of a successful B2B email marketing strategy:
Keeping your email list clean

If your email marketing lists are outdated and full of unwanted contacts, you risk:
Negatively affecting your sender reputation by racking up bounced emails

Reporting unimpressive stats on your email marketing campaigns

Losing the ability to effectively segment or personalize lists
Data cleaning can be done in-house, or you may want to outsource, depending on the list size.
We've calculated that a single contact point takes an average of 3 minutes to clean, so if you can't spare that time, use a data cleaning tool, like tye.
Keeping your email list clean is one of the key elements of a successful B2B #emailmarketing strategy. More effective tactics on sending B2B emails in 2020 here: #DataCleaning
Defining your ideal customer profile

If you are lacking focus and direction with your email campaigns, or seeing lackluster results, try defining an ideal customer profile (ICP).
By having a clear idea in mind of who your ICP is, you will be able to more effectively:
personalize your email marketing campaigns

segment your lists for more effective call-to-actions

write emails that are highly relevant and tap into key pain points and challenges
Here's how to do it:
Talk to your best customers
Your best customers are those that are engaged, and are a perfect fit for your solution.
Identify their pain points
Talk to them about their goals and challenges, and find out what the biggest obstacles are and how you can help them break them down.
Map out their buying process
Aim to better understand who the decision-makers are, how they make decisions, what their blockers are, and how they go about doing research. Find out what channels they use, and how they approach looking for a new product or service.
Once you have this information from a group of different customers, put together the information, and use it to shape your email content. It can guide whether your approach is relevant, and highlight common pain points to respond to.
Segment your email list

Marketers have reported a 760% increase in email revenue from segmented campaigns, making it a crucial element to add to your B2B email marketing campaigns.
Segmenting your email list means that you drill down into subsections of your list, so can send more relevant emails. Check out our post on how to segment an email list, best practices and what you need to get started.
For example, your list is made up of marketers. Some work in tech, some work in retail, others are based in the financial services. Each of these industries have nuanced challenges. Being able to tap into that will make your content even more engaging and compelling.
To do this, your Customer Relationship Management tool (CRM) and your marketing email platform (like Hubspot or Mailchimp) play a huge role. Use them to collect information about your contacts that will help you segment, so that you can send automated, personalized emails to different categories of contacts.
Personalized email marketing

Effective B2B email marketing requires a personal approach. Once you've established your segments, use what you've learned about your ICP to tailor your email messages.
It's not just about the body of your email. Think of your email message holistically. Every part should respond to a typical pain point for each segment.
Consider what kind of subject line might appeal best to each segment, and what kind of CTA (call-to-action) is more likely to get a click. Hubspot says personalized CTAs convert 202% better than default versions.
Here's an example of a great personalized email.
Why it's a great personalized email:
It reveals the time saved by using the tool, making it clear that the tool has helped alleviate a common pain point (lack of time, or inefficiencies)

It contains data that pertains to the contact receiving the email, making it super relevant

By showing the 'highlights' reinforces the idea that the tool is supporting success

It provides a relevant offer for an event related to their interests
Personalized video email marketing


Raise your game with personalized video emails.
Instead of a cold-email, many sales and marketing teams are using a 'cold-video' approach. This is where a salesperson records a message and emails it to their contacts, to make an introduction.
There are tools out there like Hippovideo and Nutshell that are designed to capture exactly this.
However, success lies in personalization, and this can be a time-consuming task.
Not all personalized video email marketing has to be created one by one. Here's a great example of a personalized video email that's simple and can be scaled up:
Why it's a great personalized email:
It incorporates personal data, making it significant to the recipient

The style fits the recipient, it's fun and light, like most Youtube creators and their content

It's celebratory: it has a 'your successes are our successes' message

The call-to-actions are social media-based, again appealing to the Youtube Creator audience, who are usually more active social media users
Using educational content instead of marketing content


Research from the Content Marketing Institute found an impressive 71% of B2B marketers used white papers in content marketing in 2018.
Instead of always pushing marketing content to your contacts, empower your contacts to make their own minds up. Ideally, the educational content you share will reinforce the value of your product and service.
By doing this, you can establish yourself as knowledgeable in your industry. You can show you understand their goals and pain points, and that you have your finger on the pulse.
Whether it's sharing your own content, such as whitepapers on reports you've created, or just linking to information from industry thought leaders in your newsletters.
How often should you send B2B emails to get the best results?


There's no winning formula, but we can tell you what's recommended based on the data.
SmartrMail reveals that less is more. When a company sends fewer than 4 bulk emails to any contact per month, they are 2% more likely to get a sale, than those that send more than 17.
There are a lot of factors that can affect this, so we recommend that you start small, and experiment. Track your results as you test out email frequency until you find your sweet spot.
Email marketing statistics by industry

In emfluence's 2019 Email Marketing Benchmarks Report, they revealed B2B specific metrics across a range of industries. You can see the data in the table below:
B2B email marketing examples
What exactly does a good B2B marketing email look like? We've pulled together some examples, across different types of campaigns to give you some inspiration.
The Welcome Email
Sent to new users or subscribers, the welcome email is an opportunity to introduce your email marketing approach.
In this example from Asana we can see that they've taken the opportunity to reinforce just how simple it is to use the tool. They're setting the tone for easy-of-use and enthusiastic support.
The Event Email
An event email, whether it's for an online or physical event, needs to explain in one email why the event is worth attending.
Here's an example from emfluence:
This email has a strong opening message. "7 Things That Belong on Every Email Marketer's CRM Wishlist", is the name of the event and it grabs the attention of email marketers. It makes them ask the question 'what am I missing', tapping into the pain point of how to optimize the use or efficiency of a CRM tool, meaning they'll want to join to satisfy these questions.
The Product Announcement Email
Product marketing is an important arm of B2B email marketing. You want to keep your contacts up to date with the great things you've been doing, and let them know about the specific benefit your product or service could offer to keep them hooked.
Here's an example from Invision:
This email focuses on value for the B2B buyer. It does this by highlighting the benefits 'easier to use for the whole team', and by providing examples upfront of what can be done with the new feature. As it's a long email, they've cleverly placed a clear CTA at the top and the bottom of the email to not lose anyone's attention.
The 'meatier' content marketing email
When it comes to sharing your longer form content, your email approach is key. This could be a white paper, a report or just something you've created that deserves its own campaign.
This email from Litmus promotes their ebook. The winning element of this email is the way they break the content down. They give the option to download the ebook, then ask if the reader 'just wants the highlights', linking to an infographic. They've even included a few snippets of the infographic to give a preview of what to expect.
Growing your email list
There's no point having fantastic personalized emails if only a handful of people are seeing them. A goal for B2B businesses should be to grow their subscriber lists and spread awareness of their company.
You might be thinking 'easier said than done'. Here are a few tactics to get you started:
Pop-ups on your website: let people know that you're sending out great content

Gate your content: if you have content to view or download, ask for an email address first

Host events or webinars: use a sign-up form to collect email addresses, and get the bonus of being able to share your message with a captive audience

Include a form on your webpage footer: once people have looked around your site, they might be convinced to hear from you more often
There's no point having fantastic personalized emails if only a handful of people are seeing them. A goal for #B2B businesses must be to grow their subscriber lists. Here's how to do that in 2020:

Things to be considerate of
When collecting email addresses, always explain upfront what a subscriber should expect from your email marketing. Give an idea of topics and frequency.

Always provide an opt-out, don't risk being reported for spam

Ensure you comply with local data protection rules, such as CAN-spam or GDPR.
Check out our other post here for tips on avoiding ending up in spam folders.
Managing your email list
Once you've started growing your list, it's important to remember to keep the list healthy. As we've already mentioned, good list hygiene is a pillar stone of effective email marketing.
Have a plan in place for updating and cleaning your lists. This might mean setting time aside regularly to work through new contacts (or outsourcing a tool to do this).
Keeping your segments well-defined is important too. Good data will make this easier. You could also establish a process at the start, where you collect the data about your contact to help push them into one segment or another. A typical method is including additional questions in a sign up form, or asking them to select their 'email preferences'.
If your segments are activity-based, ensure you're using a good marketing platform that tracks your contacts activity.
We created the ultimate email list management bundle for busy marketing leaders with large lists
B2B email marketing case studies. What are other brands doing?
Here are some case studies from businesses we think have impressive B2B email marketing strategies.
Here's a snapshot of their email marketing:
They have around 150k email subscribers across all of their mailing lists

They collect most contacts through free downloadable content (such as whitepapers or templates)

They segment their lists based on activity (e.g. a contact's download activity)

They often use their Founder David Tang's email address as a 'sender email'

Most of their email sends are through a newsletter, sent every 2-3 weeks. Other emails are autoresponders.
Here's something they did really well:
At the start of the COVID-19, they pivoted their email marketing quickly. They considered the new challenges and fears facing their audience and started an email campaign to respond to it.
This was made up of regular emails, during the first few months of COVID-19, which were later evolved to be articles on Founder David Tang's Linkedin Pulse page.
They started to notice a higher interest in related topics, such as Business Continuity Planning (BCP), Supply Chain Resilience, Digital Transformation and Cash Flow Management. So, they began putting more priority on promoting these topics.
They created a new section on their website, tracking COVID-19 patient case trend data (see the Coronavirus Dashboard here). Alongside this, they published reports and updates via email and Linkedin reporting on trends around the world. They were ahead of the game with this, starting when lockdown measures were in early measures.
The feedback
Anecdotally, they got great feedback from their contacts. They received personal emails responding to the content which was not typical for them.
They saw an up tick in sales for certain topics, as mentioned above, which they feel strongly was COVID-19 related. As they shifted their email content strategy (from sales emails to educational content), their open rates went from 15% to 40%.
Why this worked:
It was reactionary. They released content from the very start of the crisis. This made it relevant to their entire audience as all businesses were facing the same challenges.

They established themselves as knowledgeable, or 'experts' in the area. They had already built credibility within their email list as business best practice experts.

They provided value by sending information or educational content rather than pure marketing emails. David said "I think the reader appreciates the content when it's information based, it's more likely to be read and shared."
We asked David what his top tips were, reflecting on the success of their email marketing:
"I strongly recommend sending informational emails that provide insights and opinions, preferably on a topic relevant to current events (e.g. COVID-19). It keeps brand top of mind without the need for aggressive marketing."

"I also like to send emails from my personal email address. It builds rapport, a feeling of trust and credibility. It's also more appreciated as it feels personal."

Check out David's Linkedin Pulse posts here.
We spoke to Michael Oakley from ClientBAM about his thoughts on the state of email marketing in 2020. He talked to us about the 2 crucial things email marketers should be thinking about.
Personalization is key
For him, 'psychology beats technology', which means your message and your approach comes first. The challenge then is writing personal messages at scale. To combat this, he recommends taking the time to add as many custom variables as possible within the email.
Careful list management
"It can be easy to go to spam! We struggled with email deliverability a lot.
After investing so much in servers and people's promises everything failed for us, we still ended up in spam. We eventually found a tool called AlwaysArrive which works super well."
Reflecting on email marketing so far in 2020, what key things have you noticed?
"COVID-19 at this point is an over-labored topic. I think people approached email marketing a bit too hastily. COVID-19 and other hot topics may help you grab a bit of attention but at the end of the day sending super personalized and high quality emails are going to make the major difference for people, not the latest buzzword."
We asked Micheal for a final tip, considering the future of email marketing:
"Something we've found to be great is the use of video. It adds a really personal touch, and makes the recipient feel as though you've created something just for them. It's difficult to scale, but worth it. We create a screenshare style video, which can be personalized. This means when the contact opens the email, they see their own site in the thumbnail."
A lot has changed but a lot hasn't. At the end of the day, it's about one to one authentic communication between people. Marketing is just about scaling these conversations.
Andrea Bosoni, the founder of Zero to Marketing shared their email marketing story on Indie Hackers.
He revealed that a recent newsletter had a 60% open rate (which is a really fantastic metric). He admitted it wasn't easy and took some trial and error. Here are the tactics that worked for him:
"Create a reading habit"
He sent out the newsletter at the same time and day, with the same subject. Consistency and familiarity builds a feeling of communication between you and your audience.
"Avoid spam"
To circumvent this, Andrea asks for replies to his emails. He creates a conversation with his contacts and alerts Gmail that his emails are important in the process.
"Keep a clean list"
They clean data every 3 months, to remove any inactive subscribers and bad emails.
"Watch out for tracking blockers when cleaning your list"
In today's world, you can't just up and remove anybody from your list if they haven't engaged with you. Many people use tracking blockers, meaning you won't be able to track their engagement with your emails. To avoid removing hidden but otherwise active subscribers, send a re-engagement campaign.
Sending an email with the message "Do you want to stay subscribed? Let me know or I'll remove you from the list" gives contacts an opportunity to stay.
"Use a custom preview text"
Andrea writes interesting preview copy, so that his contacts don't just see 'click here to view this email in a web browser' in their inbox. It's an opportunity to engage your contacts.
Andrea's final piece of advice? "I'm not interested in having a giant list… what I really want is a bunch of people who are genuinely interested in hearing what I have to say about marketing."
The key to effective B2B email marketing?
In 2020, it's more important than ever to be human. Create a conversation with your contacts. Personalization is the answer. Find out what's keeping them awake at night, and provide them with the answers they need to be successful.
We created the ultimate email list management bundle for busy marketing leaders who want to make the most of their data